You set records. You break boundaries. You shape the future, but you never forget where you came from. You are alumni of Gridbook Academy, and you honor Gridbook Nation in everything you do.
Long after you achieve your goals, and move onto the next chapter of your life, you fly the Gridbook Nation flag. Our united vision is spread across the globe, making you part of something bigger than yourself. Together with your fellow alumni, you are defining the culture and inspiring the next generation of percussionists.
While your time in Gridbook Academy may be over, you have left your mark and set the standard so others may pick up the torch and carry on.
Whether you are still in the percussion community changing lives, or have transitioned into other fields, we are so proud of the work you have done here.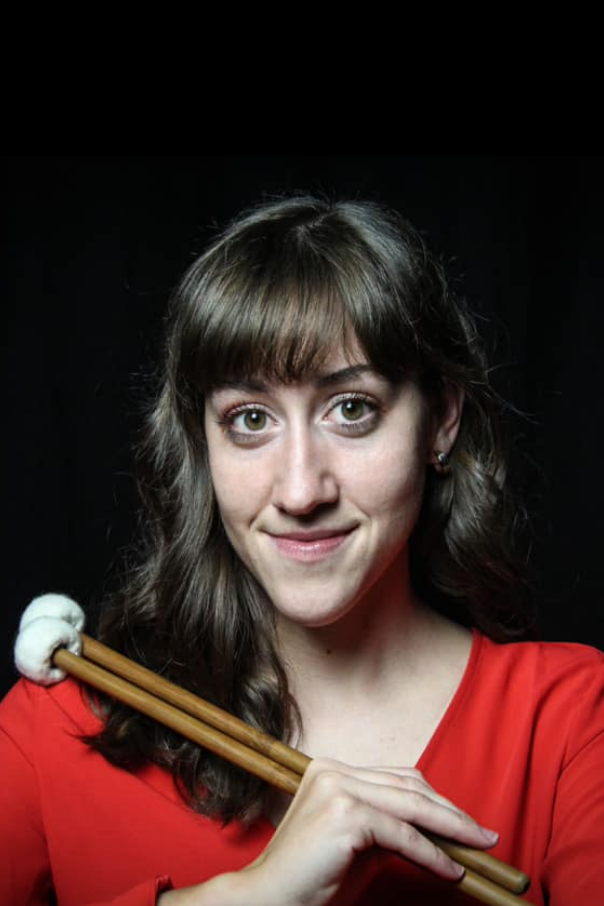 Ashlee Allaire
High School
- J.W. Mitchell High School Drumline (2012-15)
- Pasco, FL All-County Member
- District Solo & Ensemble - Superior (4)
- State Solo & Ensemble - Superior (2)

Marching Arts
- WGI PIA INFINITY III Bassline
2016🥈
- WGI PIO INFINITY II Bassline
2017🥇
2018🥉
- DCI OC Vanguard Cadets Front Ensemble
2018🥇

College - Undergraduate Studies
- St. Petersburg College Percussion Ensemble (2015-18)
- St. Petersburg College Wind Symphony (2015-18)
- Associate of Arts Degree (2018)
- FSU Percussion Ensemble (2018-21)
- FSU Wind Orchestra (2018-21)
- FSU University Symphony Orchestra (2018-21)

College - Graduate Studies
- MM in Percussion Performance Northwestern University (2021-Present)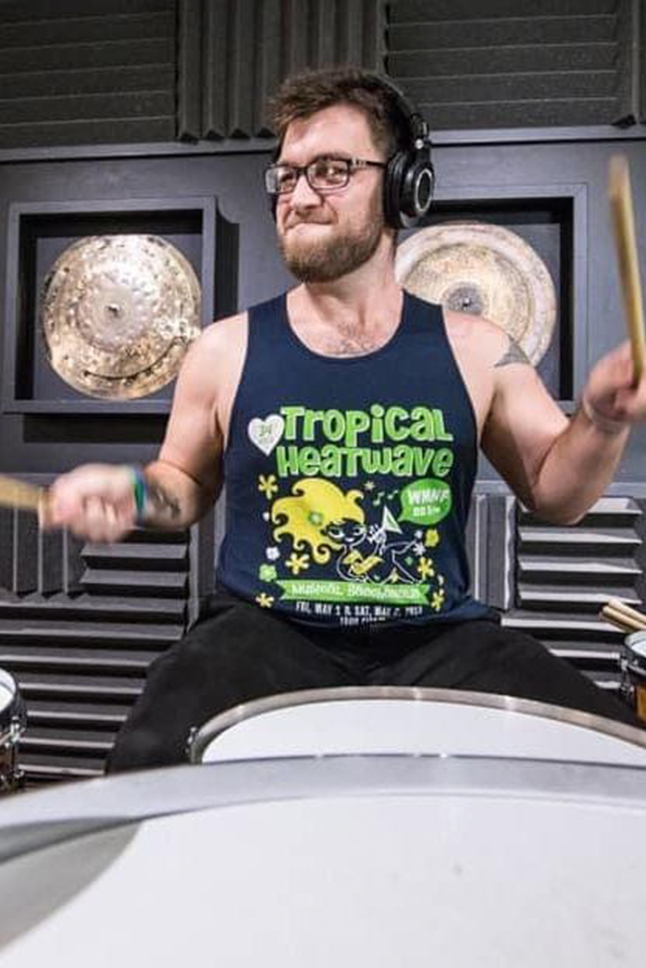 Eric Allaire
High School
- J.W. Mitchell High School Drumline (2006-09)
- JWMHS Band Louis Armstrong Jazz Award (2009)

Marching Arts
- WGI PIO Brahma from USF Front Ensemble (2009-10)

UNRB Ska Band
- Founding Member (2010)
- 1st Studio Album "Inform The Masses" (2013)
- 2nd Studio Album "Collateral Jammage" (2015)

College - Undergraduate Studies
- St. Petersburg College Percussion Ensemble (2010-12)
- St. Petersburg College Wind Symphony (2010-12)
- Associate of Arts Degree (2012)
- University of Tampa Percussion Ensemble (2013-14)
- UT Sally & Jack Jenkins Music Service Award (2014)
- BM in Percussion Performance from University of Tampa (2014)

Professional Experience
- Clearwater HS Front Ensemble Instructor (2018-20)
- Private Lessons Instructor (2018-Present)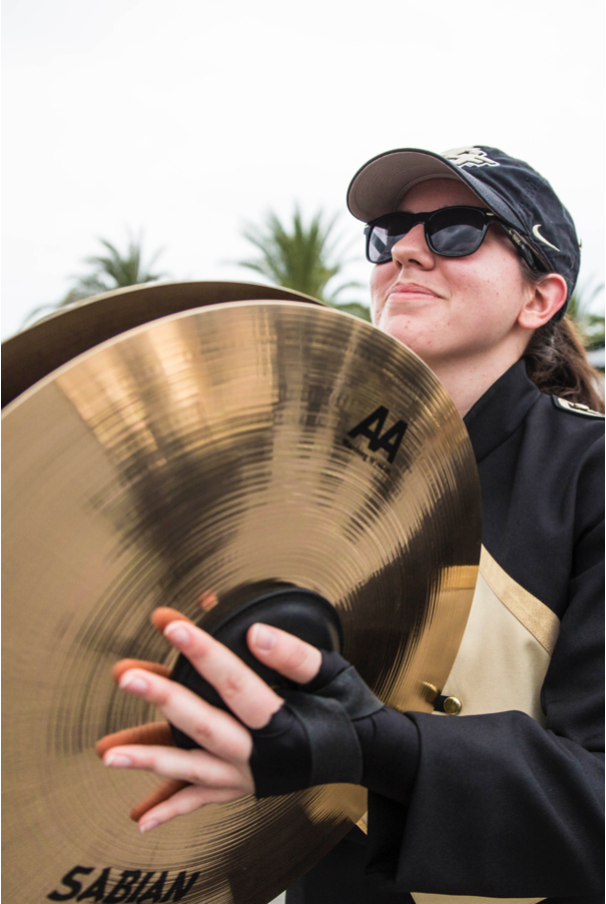 Gina Cilluffo
High School
- Pasco, FL All-County Member
- J.W. Mitchell High School Drum Captain (2015)
- Pasco County All-County Percussion Principal (2016)
- District Solo & Ensemble - Superior (9)
- State Solo & Ensemble - Superior (5)
- State Solo & Ensemble - Superior with Distinction (2)

College - Undergraduate Studies
- UCF Percussion Ensemble (2016-17)
- UCF Marching Knights (2016-17 cymbals, 2018-19 bass)
- UCF Marching Knights - Percussion Rookie of the Year - (2016)
- UCF Symphonic Band (2017)
- Sebastian River High School - Drumline Tech (2017)
- UCF Marching Knights - Most Improved - Percussion (2018)
- UCF Concert Band (2019)
- Penny's Band Camp - Drumline Tech (2019)
- UCF Marching Knights - Most Outstanding Percussion - (2019)
- UCF Marching Knights Band President (2019)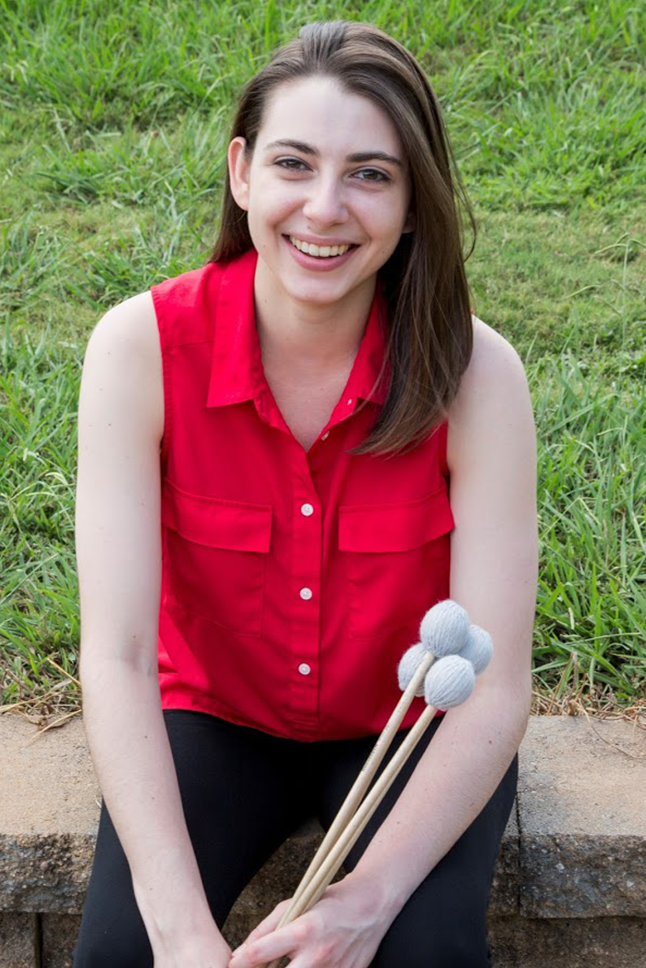 Catherine Cole
High School
- Land O' Lakes HS Drumline Captain & Concert Section Leader (2009-12)
- LOLHS Indoor Percussion Ensemble Captain (2010-11)
- FSU Summer Music Camps, Principal Percussionist (2011)
- Pasco, FL All-County Principal Percussionist (2011-12)
- FMEA All-State Percussionist (2011-12)
- FSU Tri-State Honor Band (2012)
- District Solo & Ensemble - Superior (4)
- State Solo & Ensemble - Superior with Distinction (3)

College - Undergraduate Studies
- Tri-State Honor Band, Percussion Assistant (2012-15)
- Eastern Music Festival (2013-15)
- PASIC All-Star International Percussion Ensemble (2015)
- BM in Percussion Performance, Florida State University (2016)

College - Graduate Studies
- PASIC IPEC Winner, Eastman Percussion Ensemble (2017)
- Eastern Music Festival, Percussion Fellow (2017-19)
- Leigh Howard Stevens Summer Marimba Seminar, Intern (2017)
- WXXI, Classical 91.5 Radio Station Intern (2017)
- Arts Leadership Program Certificate from Eastman Institute of Music Leadership (2018)
- MM in Percussion Performance and Literature, Eastman School of Music (2018)

Professional Experience
- Hollingsworth Winds Community Band, section percussion (2012-18)
- Sinfonia Gulf Coast, section percussion (2013-16)
- Tallahassee Symphony Orchestra, section percussion (2013-16)
- Tallahassee Community Chorus, substitute (2014)
- The Florida Orchestra, Artistic Operations Coordinator (2018-present)
- The Florida Orchestra, substitute/extra (2019-present)
- Eastern Music Festival, Percussion Coordinator (2020-present)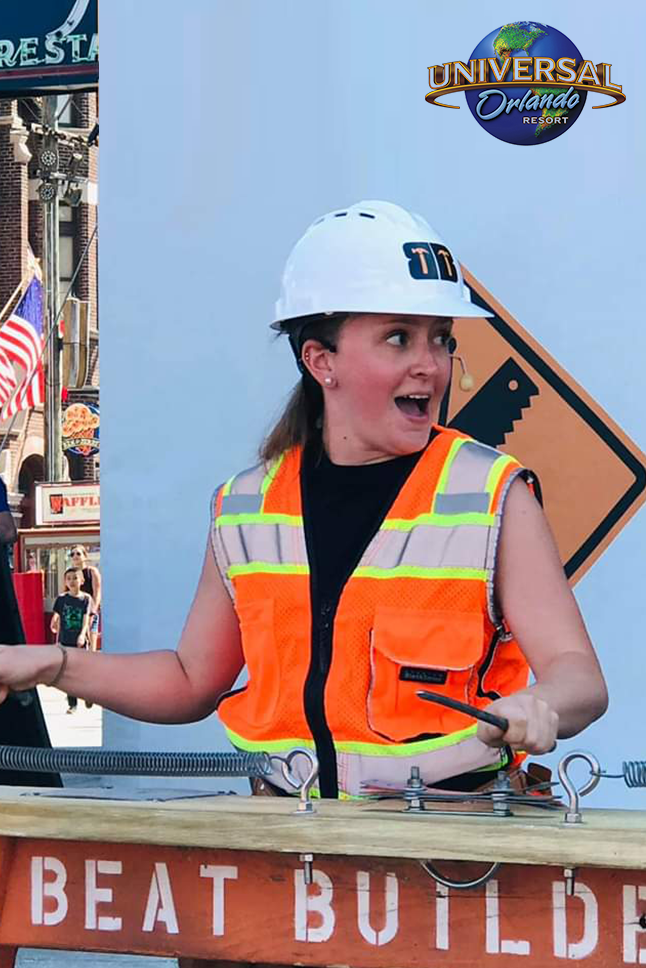 Shelby Evans
High School
- Macy's Thanksgiving Day Parade (2013)
- Tarpon Springs Indoor Performance Ensemble (2013-14)
- Tarpon Springs Outdoor Performance Ensemble (2013-16)
- Bands of America
2014🥇 Grand National Champion
2014-16 🥇 Atlanta Regional Champion
- State Solo & Ensemble - Ensemble Superior (2)
- State Solo & Ensemble - Solo Superior (1)
- Wind Ensemble Principal Percussionist (2016)
- Pinellas, FL All-County Member (2016)
- United States All American Army Marching Band (2017)

Marching Arts
- WGI PIO INFINITY II Bassline

2017🥇 &
Rookie of the year
- WGI PIW INFINITY Bassline

2018 Rookie of the year
2019 🏅Fan
Favorite

- DCI WC Crossmen Drum Corps Bassline (2018)


College - Undergraduate Studies
- Bachelor's Degree in Entertainment Management from UCF's world renowned Hospitality school- Rosen College (2021)

Professional Experience
- Production Assistant at Lot Riot (2018)
- Drumline Instructor at Cypress Creek High School (2018)
- Drumline Instructor at Timber Creek High School (2019)
- Beat Builders Show at Universal Orlando - First female to be casted for a role (2019-Present)
- Magic Beatz Drumline Member for Orlando Magic (2019-Present)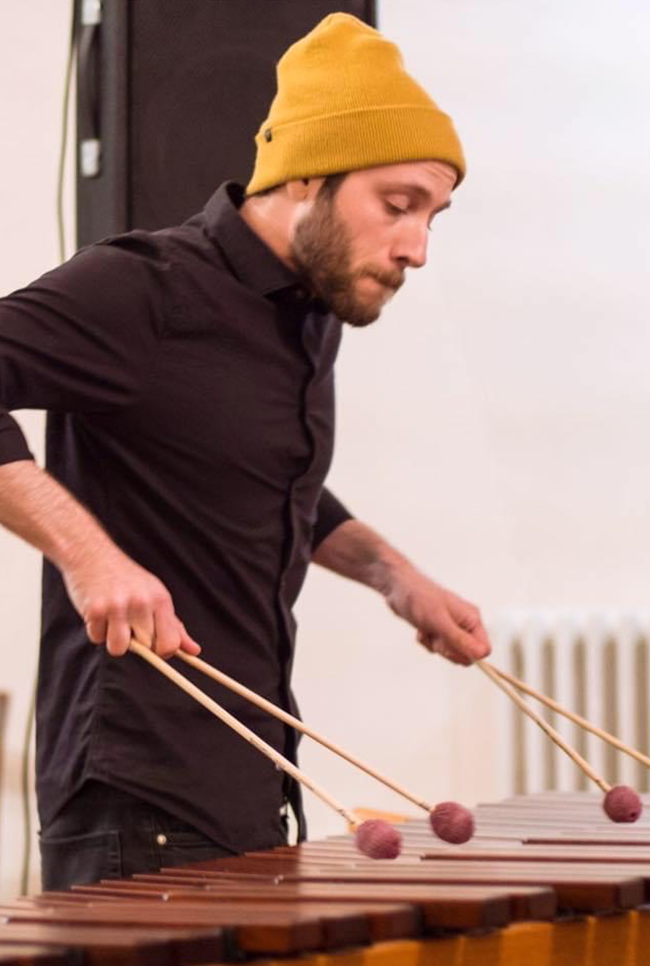 Michael Giunta
High School
- J. W. Mitchell High School Drumline (2008-11)
- FL State Solo & Ensemble -Ensemble Superior

College - Undergraduate Studies
- AA in Percussion Performance Valencia College (2015)
- McCormick Marimba festival featured soloist (2017)
- USF Wind Ensemble featured concerto soloist
- BM in Percussion Performance from University of South Florida (2018)
- KNOB Arts and New Music festival featured soloist (2018)
- Brevard Music Center Summer Institute and Festival (2018-19)
- 1st Place at Cortona Sessions in New Music's instrumental performance competition, Cortona Italy (2019)

College - Graduate Studies
- WSU Percussion Studio Graduate Teaching Assistant
- MM in Percussion Performance Wichita State University (2020)
- MSU Percussion Studio Graduate Teaching Assistant
- DMA in Percussion Performance Michigan State University (2021-Present)

Professional Experience
- Section Percussion, Wichita Symphony Orchestra (2018-2020)
- Percussion coach for Wichita Symphony Youth Orchestras (2019-20)
- Front Ensemble Instructor at Steinbrenner High (2017-18)
- Private Lessons Studio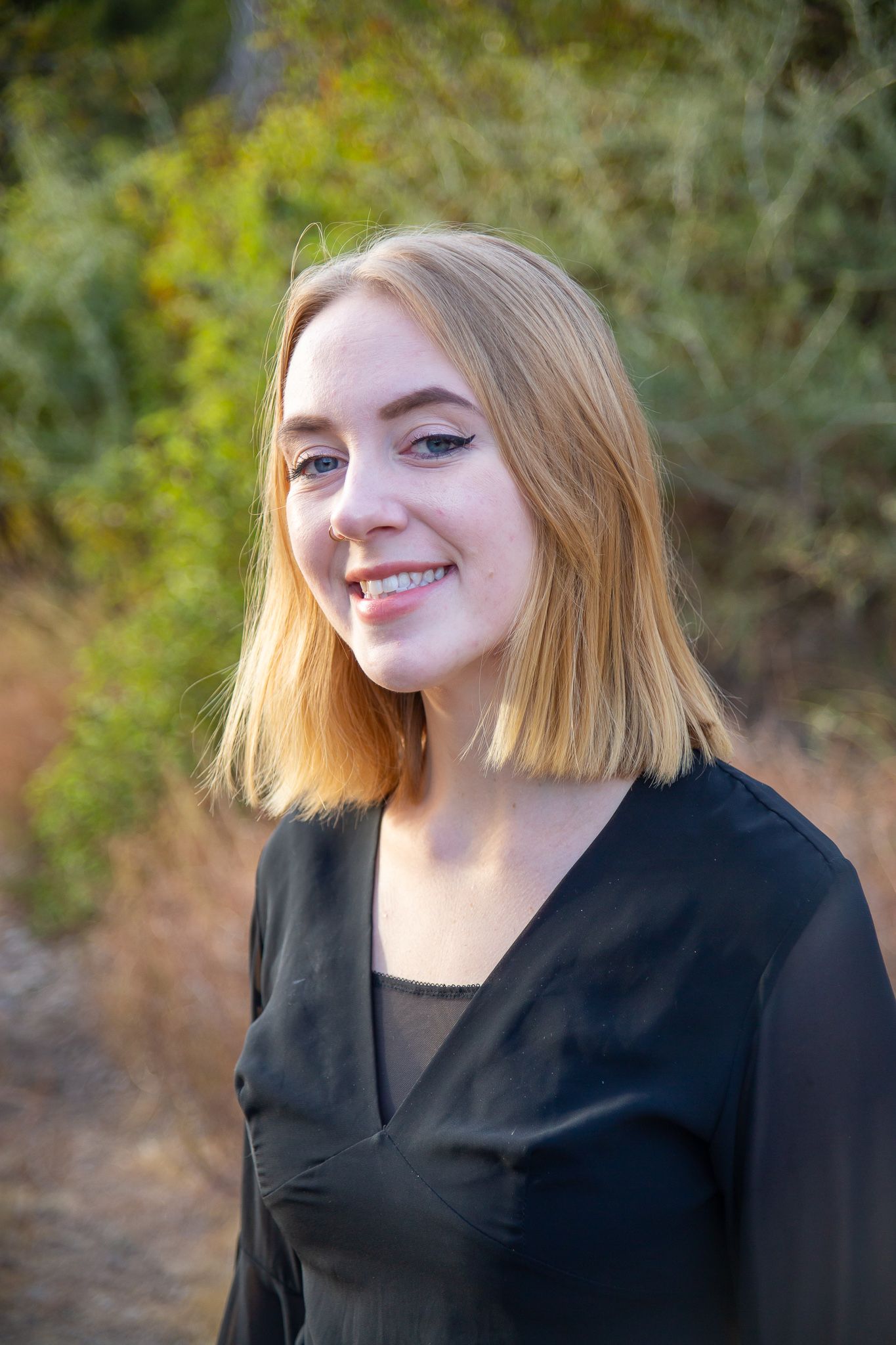 Genevieve

Hilburn

High School
- Crescenta Valley High School Drumline (2012-2016)
- Band Leadership (2013-2016)
- Crescenta Valley HS Symphony Orchestra (2014-2016)
- Pasadena Youth Symphony Orchestra (2014-2015)
- Tournament of Roses Honor Band (2015, 2016)

Marching Arts
- DCI OC Blue Devils B Drum Corps Bassline (2016)🥇High Percussion
- DCI WC Academy Drum Corps Bassline (2017)
- DCI WC Bluecoats Drum Corps Bassline (2019)🥈

College - Undergraduate Studies
- BM in Percussion Performance from California State Northridge
- California State Northridge Wind Ensemble (2017-2021)
- California State Northridge Percussion Ensemble (2016-2021)
- Outstanding Member Award - California State Northridge Percussion Ensemble (2016/17 School Year)

College - Graduate Studies
- MM in Percussion Performance from Texas A&M University-Commerce (2021-Present)
- Percussion Studio Graduate Teaching Assistant at Texas A&M University-Commerce (2021-Present)

Professional Experience
- Thousand Oaks HS Battery and Movement Technician(2017-2020)
- La Cañada HS Battery and Movement Technician (2019-2021)
- Meraki Percussion (PIO)
- Bass Drum Technician (2020)
- Pacific Crest Drum Corps Bass Drum Technician (2021-Present)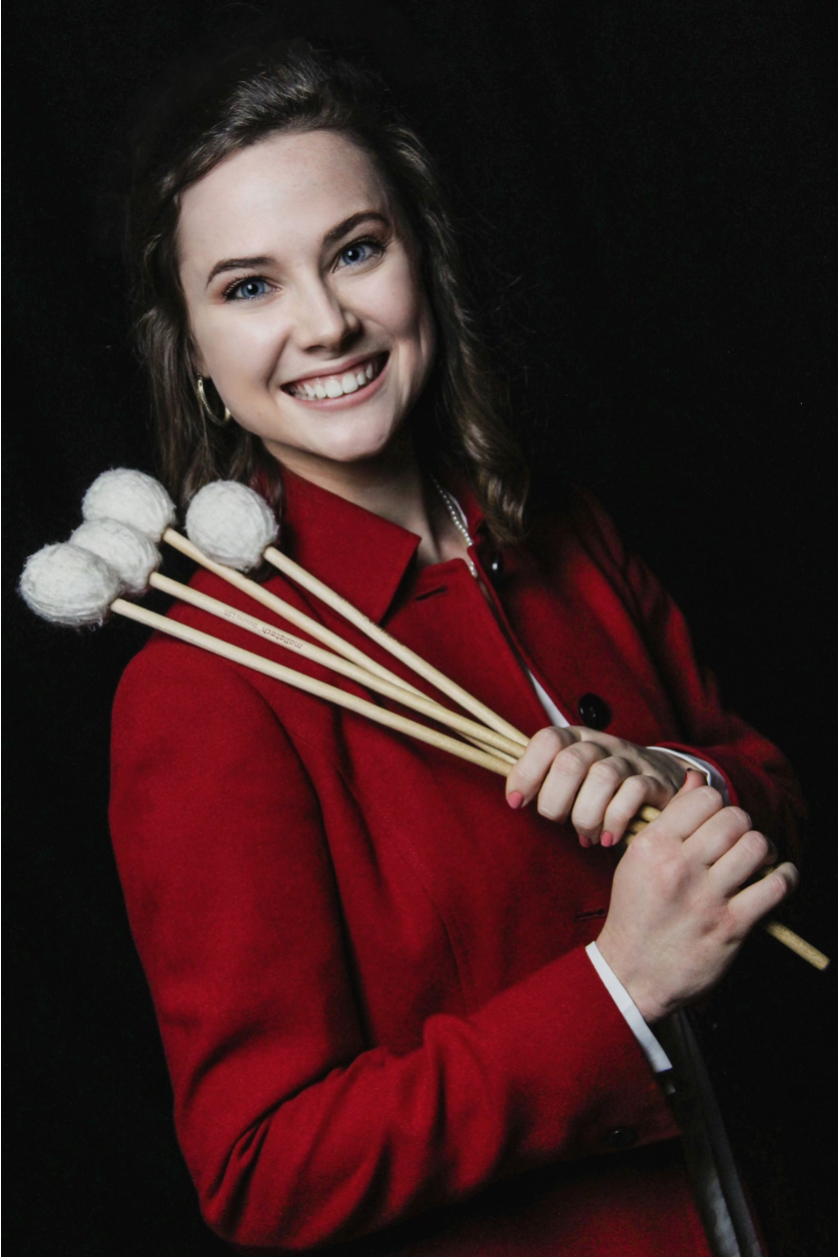 Abby McNulty
High School
- Pasco, FL All-County Member (2014-19)
- Florida All State Member (2017-19)
- State Solo & Ensemble - Superior w/ Distinction (5)
- Bandsman of the Year (2017-19)
- Featured Soloist at McCormick Marimba Festival (2017)
- USF Festival of Winds Honor Band (2017)
- FSU Tri-State Honor Band (2018)
- WGI/FFCC Concert Indoor Percussion medalist (2019)
- JWMHS Center Snare, Band Captain and Percussion Section Leader (2018-19)

College - Undergraduate Studies
- FSU Percussion Ensemble (2019- 21)
- University Symphony Orchestra Touring Member (2020)
- University Philharmonic Orchestra Member (2020)
- FSU Concert/Symphonic Band (2019-20)
- FSU Steel Drum 'Mas and Steel' Band Member (2019-20)
- FSU Wind Ensemble member (2020-21)
- Board Advisory Member for FSU College of Music (2020 - Present)
- Committee Chairman of FSU Percussion Social Media Outreach (2021- Present)