ONLINE EXPERIENCE CAMP CHECKLIST
Are you heading into an Online Experience Camp and are unsure of how to get the most out of it? DON'T WORRY! You are not alone.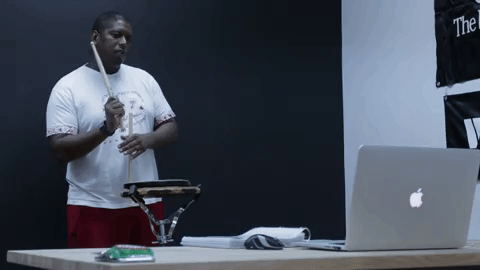 Everyone gets a feeling of uncertainty when they are going into the unknown without a plan. Use the list below to help you get the most out of your online camp experience.
BEFORE CAMP
PREP YOUR CAMP AREA
Since you will be attending this camp online you will need to set up a station in the room you plan to be in during camp.
Here are some ways to ensure an efficient and productive camp area:
Set up your streaming device.
This can be a laptop, phone, tablet, or any device that allows you to use a video streaming service. Test your streaming service (Zoom, Skype, Google Meet) before camp day so you know it works.
Make sure you have a good wifi connection.
And if you have anyone in the building who might take up bandwidth during camp, ask that they limit their usage so you can have the fastest connection possible. This helps a lot when you start playing on stream.
Set up your playing zone.
Get your drum pad, drum stand, sticks, and music, set up in a way that allows the staff to see you clearly and interact with you. If possible, set up far enough away from the camera that your entire body shows on screen. This will allow for the best possible range of feedback since they will be able to see your feet.
(If you don't have the room for a full body shot, at least get the top of your head to an inch below your drum pad in frame so they can see your hands.)
Set up your metronome.
You may be asked to play for the staff. And it is always nice when they can hear you and the metronome to check your timing. Use a metronome with subdivision capability so they can cross reference every partial you're playing.
Make sure you have all of your music ready to go.
Print out any materials they give to you ahead of time and have it set up so you can see it while you play. Make sure it is organized in the exact order they sent it to you.

Have a way to take notes ready to go. That can be an extra device with a note taking app, or some good old fashioned pencil, paper and highlighters.

Wear athletic clothing. Yes, you may be inside, but you can still do calisthenics, body movement, and small marching maneuvers like step outs in a small area. So be prepared just like you would be in rehearsal with your ensemble.

Have a water bottle ready to go. During camp you may go a few hours at a time without leaving your camp area. So having water to stay hydrated will keep you more comfortable and focused.

Make sure you are in a distraction free zone. We all know how hard it is to concentrate when there are distractions. So do your best to eliminate all distractions for the entire camp block for maximum focus.


DURING CAMP
Alright! Now you're ready for camp! All you have to do now is show up and be a sponge for knowledge. B
ut to help you do that, this section provides guidelines on how to be a great student during camp.
Follow Instructions.
Listen carefully and follow instructions exactly as they are given.
Ask Questions.
If instructions are given and you don't understand, ask about it in the moment so you can participate. If someone says something information based that you don't understand, write it down and ask at the right time. (Don't interrupt the stream unless you really need to.)
Volunteer.
If there are any opportunities for you to play for feedback
GO FOR IT.
Even if you don't play perfect, show that you are a fearless perform
e
r.
THINGS YOU SHOULD NOT DO:
Do not talk or play out of turn. While instructions are being given or while someone else is performing, stay quiet and focused. Even when you're on mute you should be polite and engaged in what others are doing. You can actually learn a lot simply by observing other people's feedback.

Do not ask questions off topic. Asking about the new Call Of Duty might be a fun conversation for the after camp hang, but not in the middle of a demonstration. (Even if it is a good question, save it for the appropriate time.)

Do not offer advice or critique in any form unless asked to do so. If you start trying to teach other people during the camp, even if it is coming from a good place, you will be stepping out of line. This experience camp is for everyone to learn from the staff there, so give them room to do what they do!

If this experience camp is part of an audition process, do not ask if you have made the line yet. You will be told at the appropriate time. Sometimes the decision to take you or cut you is made literally minutes before you hear about it. Picking the right people takes time, so don't rush the process!


AFTER CAMP
Congratulations! Well, for the future. lol At this point you have completed the camp and are now wiser and better than before! But the value from camp doesn't stop here. Now it's time to:

NETWORK!!

That's right, all of the people who attended camp are now great contacts in the community. Befriend the vets and stay in contact with them. And if you are granted a callback the real work begins!

Make sure you keep up with the veterans and staff in the break between camps, and keep practicing and implementing the things you learned from camp.

Hope this helped! If you have any more questions about attending camps, audition prep, or drumming in general let us know!

Enjoy and have fun at camp! HELLO!
This content is for members only. Enroll to gain access and start getting better. Use the link below to learn more and if you have any questions contact us anytime.
GRIDBOOK ACADEMY MEMBER DISCOUNT
Use coupon code "GPA10" at checkout for 10% OFF your entire order on shop.gridbookpercussion.com.
COUPON CODE
10%
OFF PHYSICAL PRODUCTS
Created with