How To Manage Your Time Better
"Time Management Is The Key To Success."
How many times have you heard this statement? Probably a lot! While this is VERY true, many of us don't actually spend time making a solid schedule to follow, or if we do, we don't follow it.
We don't neglect our schedule on purpose, but there are so many variables to life that make writing a solid a schedule difficult. Plans change so often, why should you spend time figuring out how to spend your day/week/month when you know plans will change?

That is the point, you need to be more willing to turn things down and stick to your schedule.
What "Time Management" does is ORGANIZE YOUR FOCUS. The issue with "un-managed" time is not that an organic schedule is bad, but we don't accomplish all of our goals and we get spread too thin or we become unmotivated. Here are some things you can do to be more effective with your time:
1. LOOK AT EVERYTHING YOU NEED TO ACCOMPLISH
2. WRITE OUT A CALENDAR BY THE DAY
3. GIVE YOURSELF PLENTY OF TIME FOR EACH TASK
4. WORK WITH A SENSE OF URGENCY
5. ITEMIZE & ATTACK EACH TASK IN THE TIME YOU HAVE
6. STAY PERSISTENT
7. MAKE ADJUSTMENT IF NEEDED, BUT DO YOUR BEST TO STAY ON SCHEDULE
8. DON'T OVERLOAD YOURSELF
9. SCHEDULE TIME FOR FUN AS WELL AS WORK (THIS WAY YOU CAN MANAGE YOUR DISTRACTIONS EASIER)
Time Management can play a big role in your success, but the real issue is when you don't have a plan. Knowing what you are trying to accomplish when you make your schedule is key.
Learn online with world-class resources and mentors.
Gridbook Percussion Academy is an online school for percussionists. We're here to help you get better with online courses, 1-on-1 mentorship, and learning tools.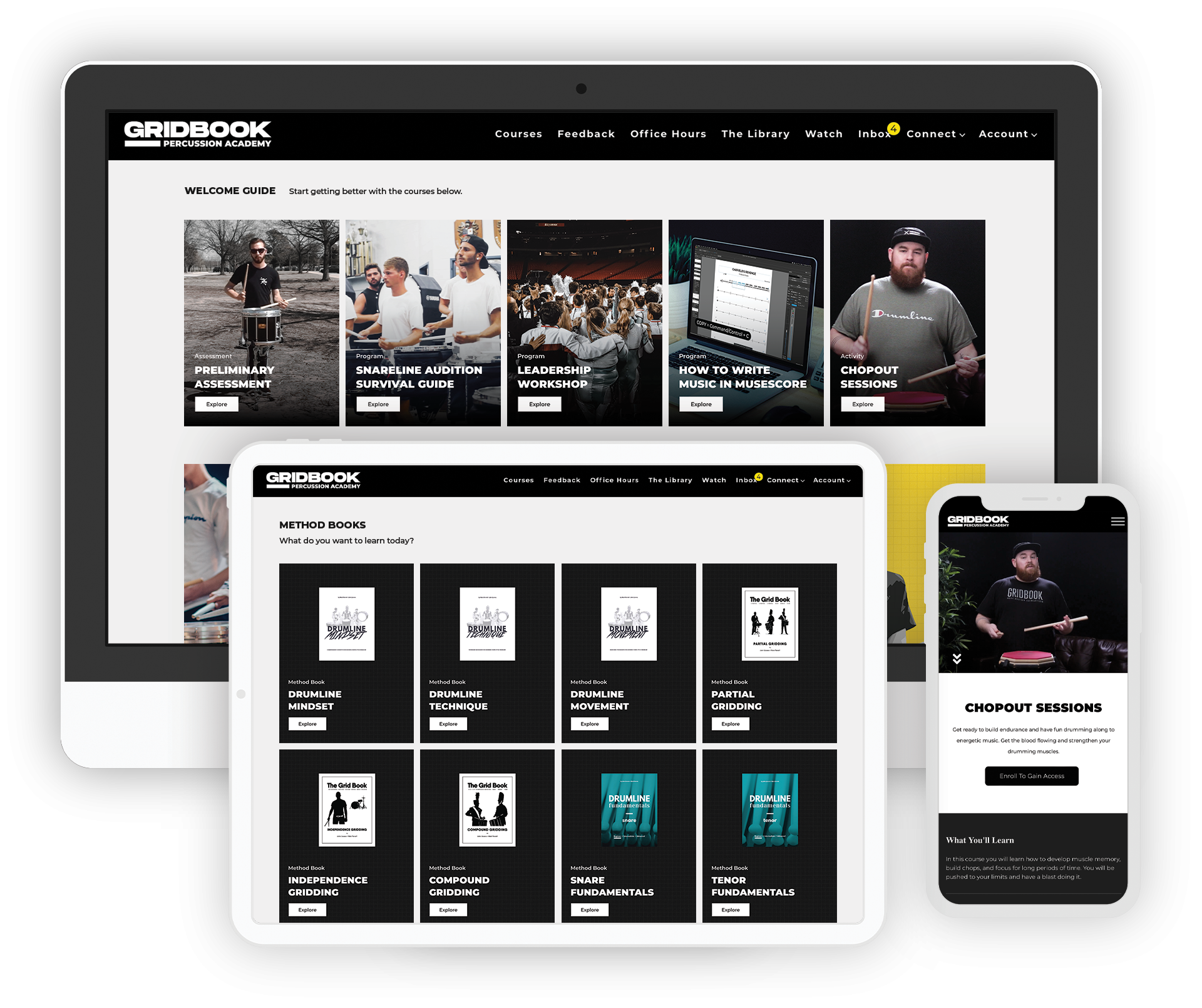 GRIDBOOK ACADEMY MEMBER DISCOUNT
Use coupon code "GPA10" at checkout for 10% OFF your entire order on shop.gridbookpercussion.com.
COUPON CODE
10%
OFF PHYSICAL PRODUCTS
Created with