Marching & Fitness
Take Care Of Your Body
04.23.20 / Mark Perrett
Taking care of your body is such an important part of the marching arts activity. What you might not know is YOU HAVE TO BE IN SHAPE TO PLAY WELL. This activity is governed by movement and you will not be able to perform at a high level of quality if you cannot move your drum around the field with ease.
DIET AND EATING

To prepare for the marching activity, stop or limit the amount of junk food you eat. Junk food can slow you down and stop your from performing at the highest level. Watch any top competitive drum line and look at how well they are in shape. Your physical fitness will be a mixture of exercise and eating a more balanced diet.
CALISTHENICS/WORKOUT ROUTINE

You should know how to do specific workouts to help your body gain agility and move for the demands of marching. And no matter how you do it, as a marching member you are responsible for getting yourself into shape. The following exercises are quick, easy, and free. This set of calisthenics can be performed almost anywhere and will strengthen your body for a well rounded physique:
1. JUMPING JACKS
2. WALL SIT
3. PUSH UPS
4. CRUNCHES
5. SQUATS
6. PLANKS
7. LUNGES

THE IMPORTANCE OF CARDIO


Along with stretching, working out, and strengthening our muscles, we also need to run and elevate our heart-rate. You should be able to jog a mile (4 times around the track) without stopping. You should work up to this over time, but you have to start the process early. Trying to condition your body for running a continuous mile the week before band camp is not a good idea.
Also, as you work cardio into your workout routine, try to practice controlling your breathing. Breath in through the nose and out through the mouth to keep a steady flow of air moving in and out of your body while on the move.
Everyone will have their own way of physically preparing, but this is some info to get you started. Remember, you are an athlete! And your performance will be directly effected by your physical ability.
Learn online with world-class resources and mentors.
Gridbook Percussion Academy is an online school for percussionists. We're here to help you get better with online courses, 1-on-1 mentorship, and learning tools.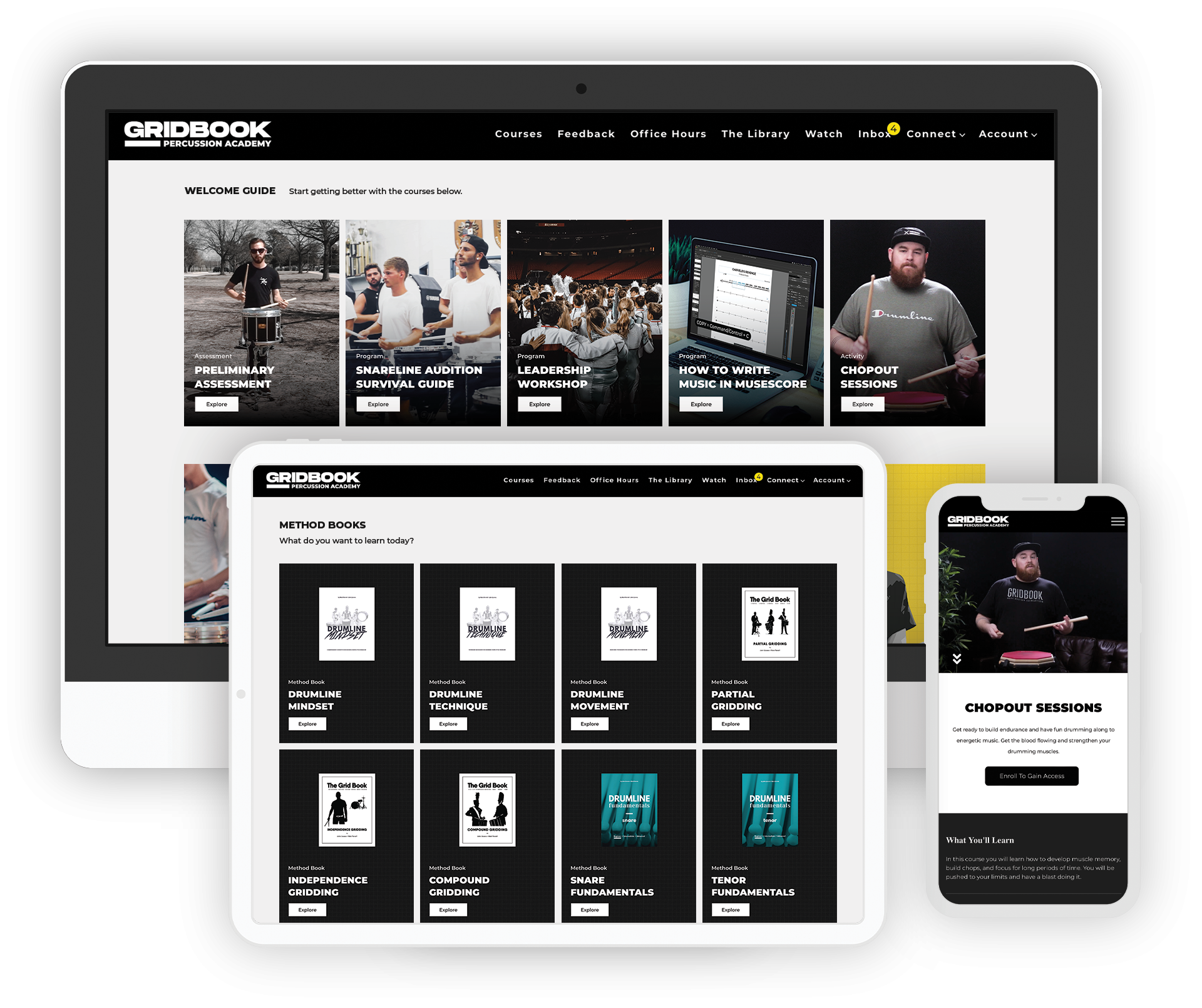 GRIDBOOK ACADEMY MEMBER DISCOUNT
Use coupon code "GPA10" at checkout for 10% OFF your entire order on shop.gridbookpercussion.com.
COUPON CODE
10%
OFF PHYSICAL PRODUCTS
Created with