CHOPOUT SESSIONS
Get ready to build endurance and have fun drumming along to energetic music. Get the blood flowing and strengthen your drumming muscles.
In this course you will learn how to develop muscle memory, build chops, and focus for long periods of time. You will be pushed to your limits and have a blast doing it.

Comfortable athletic clothing, drum or drum pad, drum stand, drum sticks, and headphones or bluetooth speakers.
Let's Have Some Fun!
Chopping out is a great way to have fun while getting better. Think of this as a Drumming Zumba class for your hands.
"Chops" are your ability as a musician to perform your music. "Chopping Out" is a training tool to help you play with high quality for a long period of time. It doesn't matter how well you know your music if you don't have the muscle strength and endurance to play with quality for a long period of time.
TRY IT OUT!
Enjoy a free class below! Let's have some fun drumming!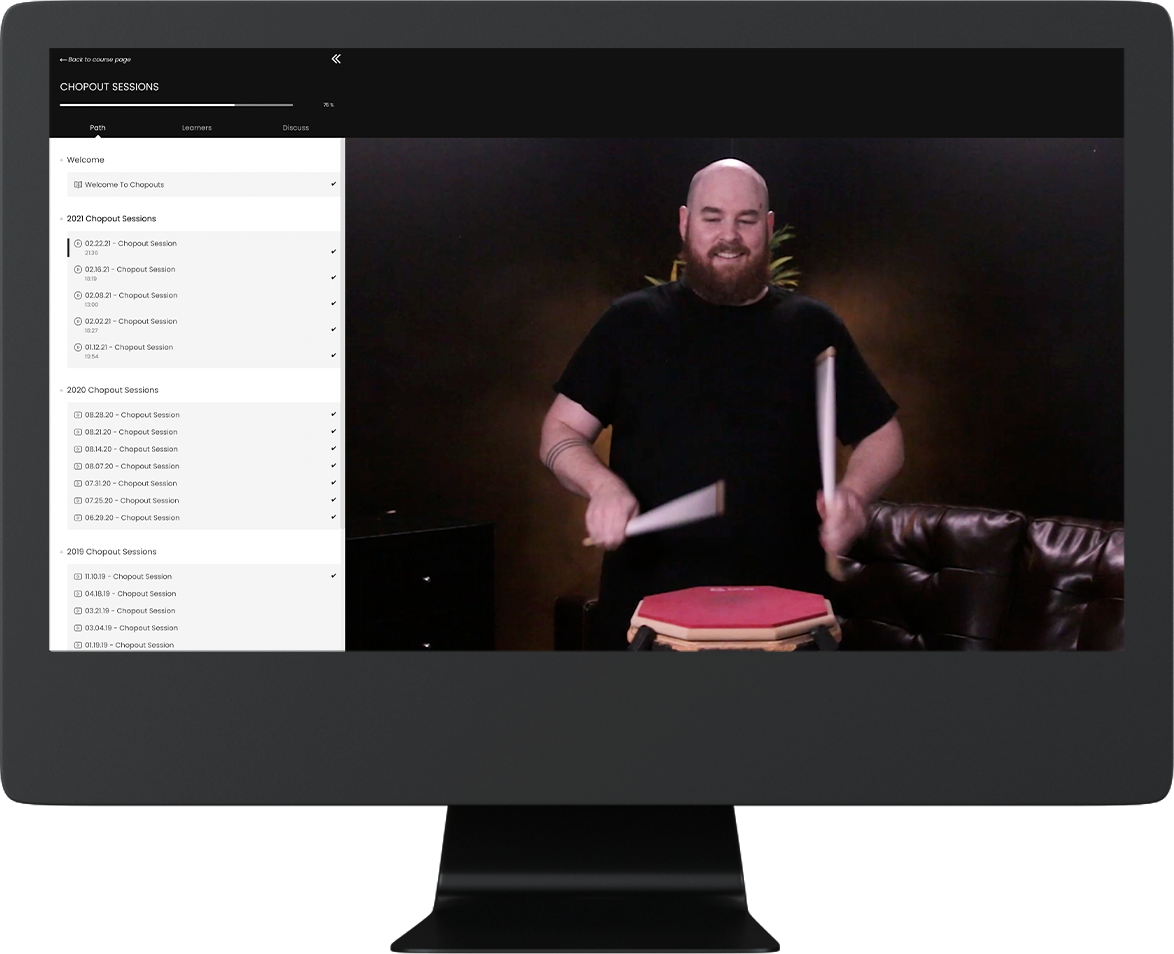 Become a Gridbook Percussion Academy member to gain access to all Livestream Chopouts and the entire Chopout Archive.
As DCI made its return after a cancelled 2020 summer tour, we had the opportunity to capture the Spirit of Atlanta Drumline in prelims warmup. This video showcases warm ups and music segments from their 2021 production "Legend Of The Bottle Tree".
Duration:
11
:07

Release Date:
2021

Rating:
G

Genre:
Drum Corps
Cast:
Spirit of Atlanta

Staring Academy Member:
Carter Nance
Additional Info.
Production:
Legend Of The Bottle Tree

Repertoire:

"Mother Earth" - David Maslanka
"Wall-E" - Thomas Newman
"Djinn" - John Psathas
"Lilac Wine" - Jeff Buckley
"Remember Me" - Thomas Bergersen

Designers:
Adam Wiencken, Matt Filosa

Drumline Educational Staff:
Chris Hodgson, Kevin Welborn, Jack Bounds, Trever Downey, Tony Teleky, Jabil, Kairuz, Thomas Young, Rhema Baissa, Logan Gott, Zac Simmons