GRIDDING CONCEPTS
MARIMBA
This course is a digital version of our book "Gridding Concepts for Marimba". It includes a collection of short exercises designed to improve mallet control and spacial awareness when playing marimba.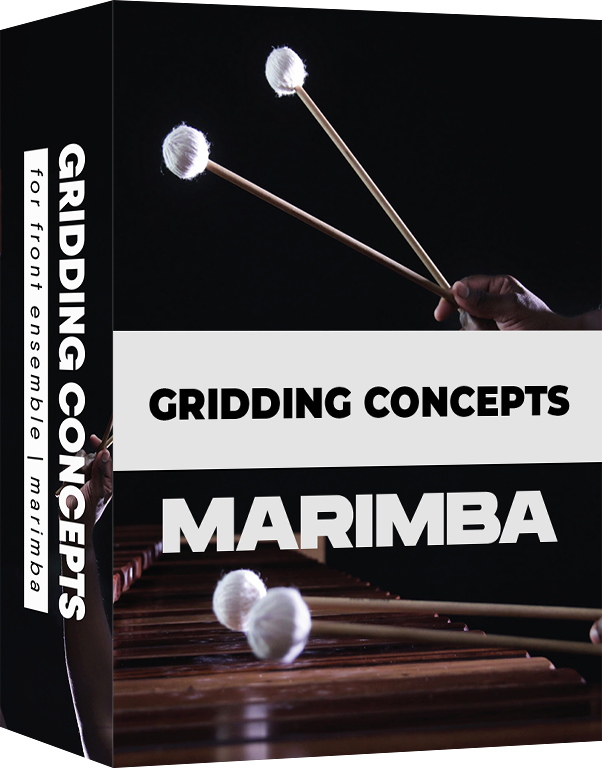 Product Overview
Offering a variety of skill sets to practice, this book includes gridding scale patterns, gridding arpeggiation patterns, and gridding permutation patterns for both 2 & 4 mallet performance.


This course is for performers who:
- Are beginner-intermediate level.
- Are in front ensemble.
- Play mallet solos.
- Are looking to expand their knowledge base.
- Are looking for sight reading material.
Product Details
Gridding is a practice format that has been around for generations. We learned how effective Gridding can be to get better while marching in Drum Corps, then used the Gridding Format with our students when we became teachers.
Gridding became one of the most effective ways to help our students get better. And after many years of writing out random grids and printing them for our students, we decided to write a book to streamline the process.


Gridding Concepts Marimba is a staple in our educational process and a book we believe every mallet player should own.
Why You Should Grid Daily
1. It will help develop your musical technique and hand strength. This is a great way to develop chops.

2. Music consists of Rhythms, Stickings, Dynamics, and Embellishments. Gridding helps you work on these skills so when they show up later in your music you're prepared for it.

3. Practicing Grids will help you develop a musical ear. The more music you listen to the more you will hear these Gridding patterns everywhere.

4. Practicing Grids will make you more confident. The better you get with the exercises, the better you perform your show music.

5. Gridding exercises help you develop muscle memory.

6. Gridding helps you develop a clear sense of rhythm and timing.

7. Gridding exercises are simple and systematic, so they're great for sight reading and warming up.

8. Gridding helps you connect simple fundamentals to advanced concepts. You can experiment with these exercises to open a huge world of possibilities.
Also
Available
As A Physical Book
GRIDBOOK ACADEMY MEMBER DISCOUNT
Use coupon code "GPA10" at checkout for 10% OFF your entire order on shop.gridbookpercussion.com.
COUPON CODE
10%
OFF PHYSICAL PRODUCTS
Created with