The future of Percussion Performance Training
Gridbook Percussion Academy
An online training and personal mentoring program, teaching you the skills and giving you the resources to live your dream as a percussion performer.
Have Fun Getting Better.
Our goal is to teach you how to drum better and have fun doing it!
Get Results.
Our teaching methods work. Period. We help our students achieve their goals.
At Your Own Pace.
Busy? With well organized, bite-sized courses you determine the pace of learning.
Courses
Our courses are designed to teach you a variety of skillsets. Whether you want to improve your mindset, hand technique, marching skills, or develop chops our courses will help achieve your goals.
Track Your Progress
Enjoy your own personalized dashboard giving you an overview of your courses, progress bars for each course, practice hours, and a customizable profile pic, bio, and social links.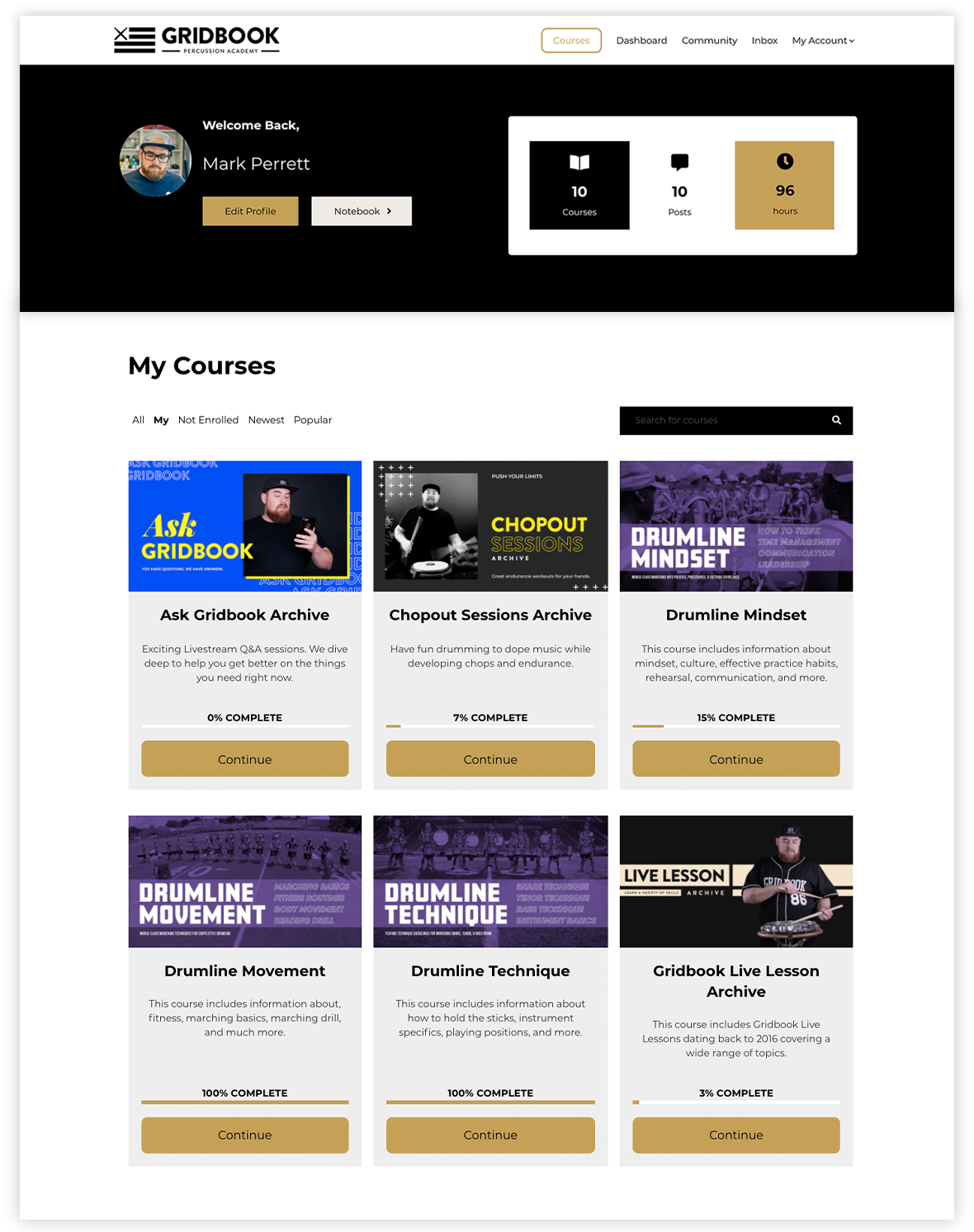 Master A Variety Of Skill Sets
Learn a wide range of techniques, marching movements, and popular rudimental skills.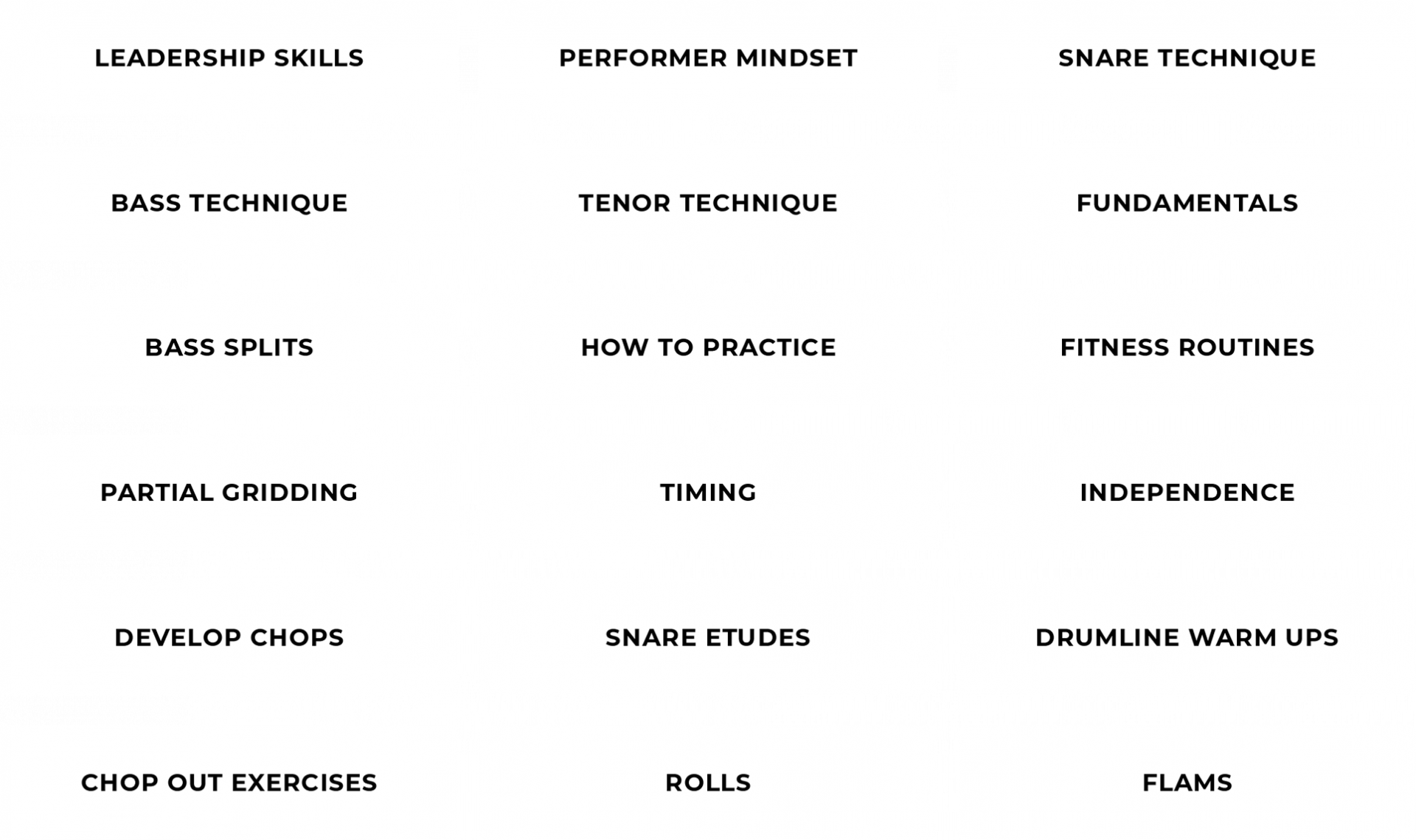 Many Ways To Learn
Learn at your own pace with a variety of Lesson Videos, Sheets Music, Method Books, And More.
Take Notes
All courses allow you to take notes, highlight, and bookmark sections. These are saved to your Practice Notebook for quick access.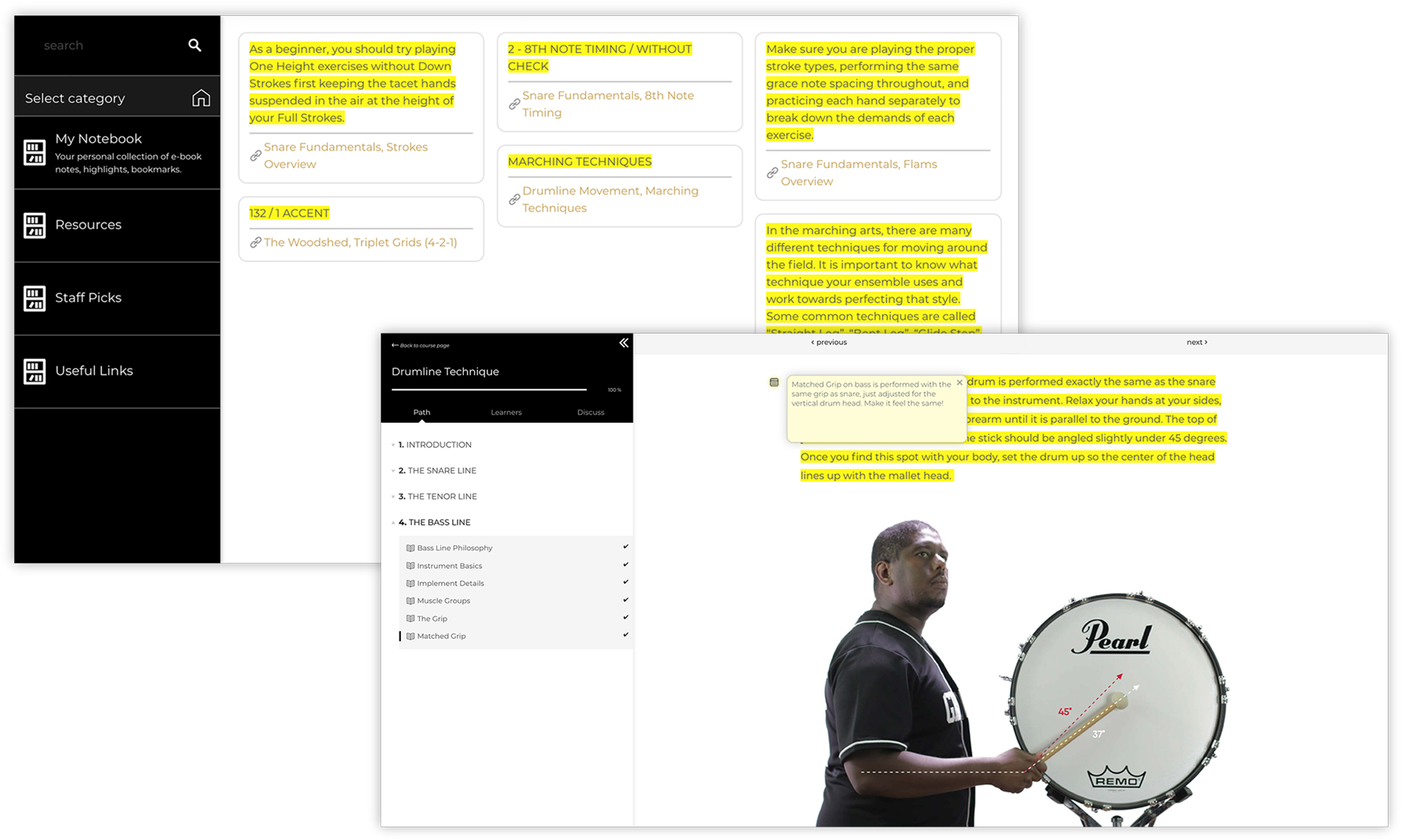 Join A Passionate Community
Come get better with other passionate percussionists. Make posts, share links, update your progress, ask questions, receive feedback, and get inspired.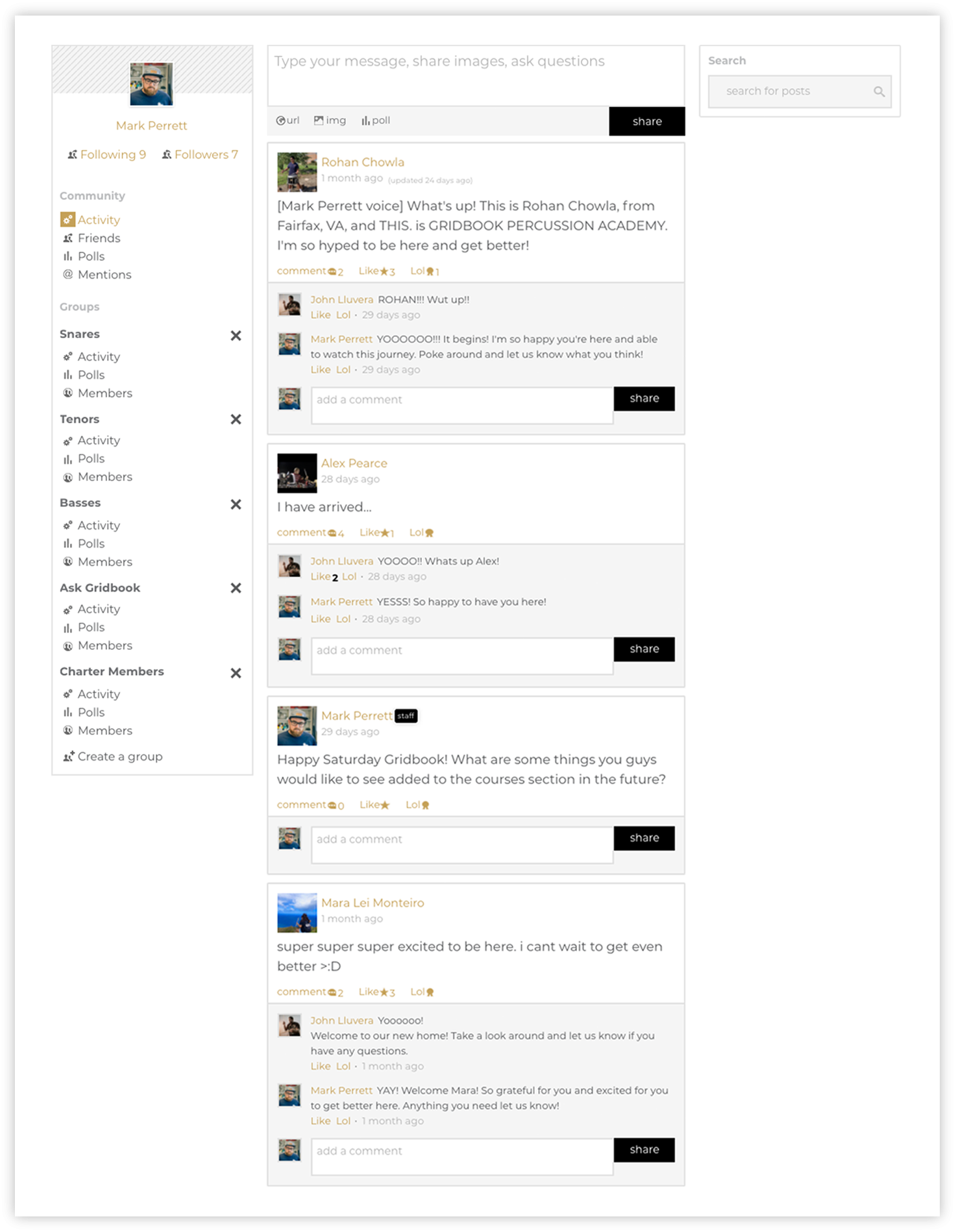 Blog Articles
Along with amazing courses, our blog articles are helpful, motivational, and cover a wide range of topics empowering you to get better.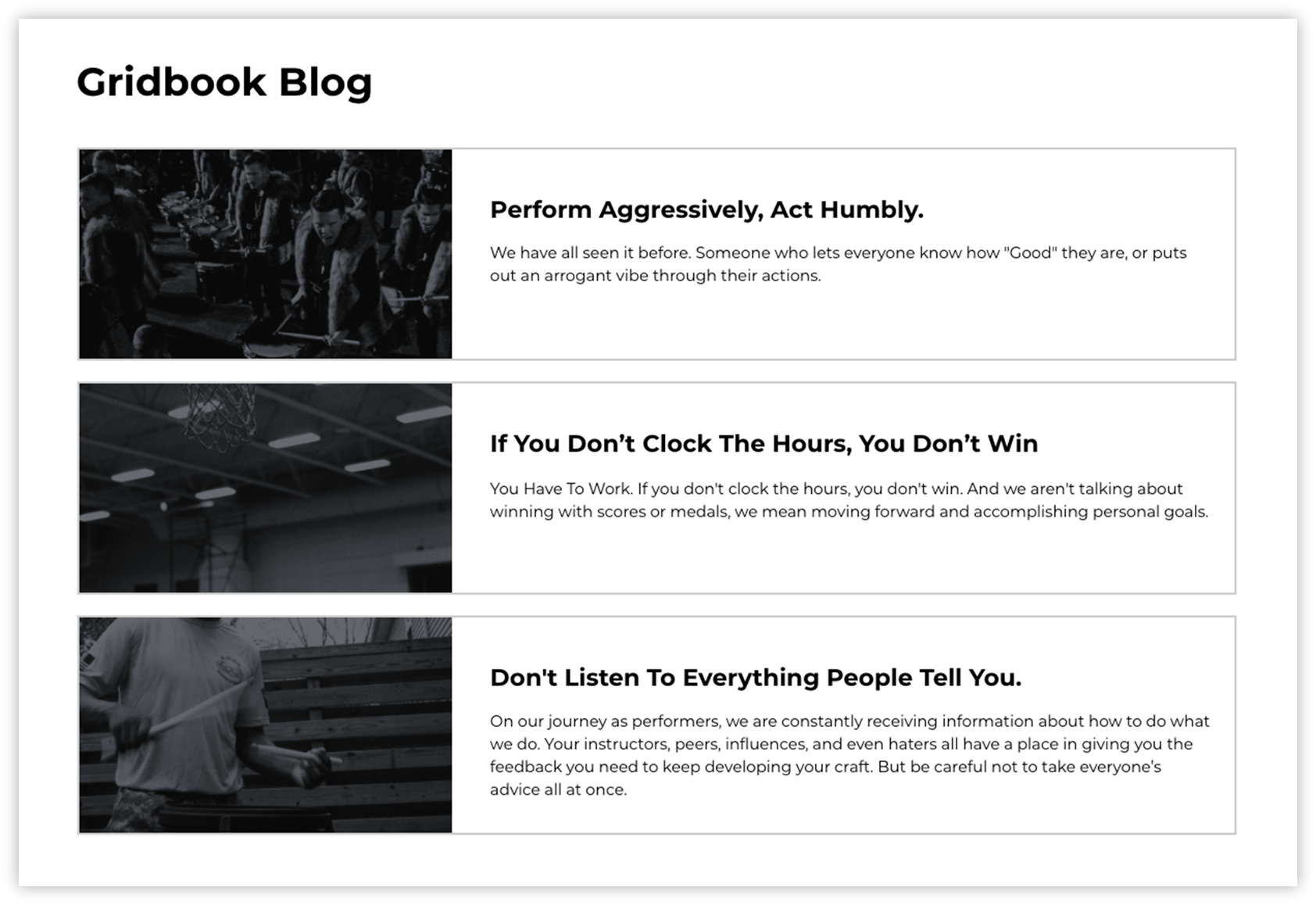 How It Works
Our subscription is simple. Pay one small monthly fee and gain access to everything in the academy.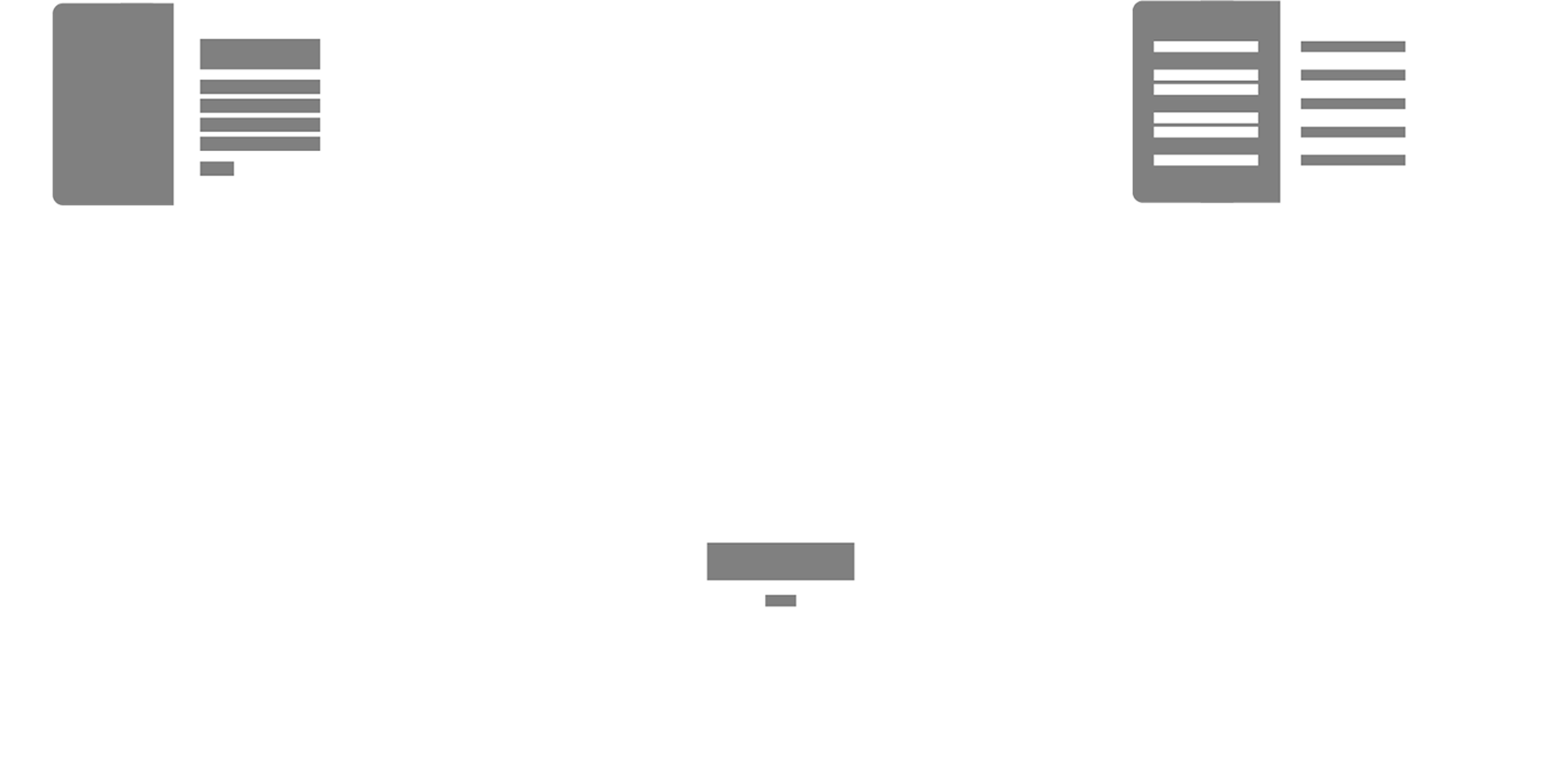 $180
Billed Annually - Save $60
UNLIMITED ACCESS TO ALL COURSE CONTENT
ACCESS TO OUR PRIVATE COMMUNITY
UPLOAD VIDEOS FOR INDIVIDUAL FEEDBACK
WEEKLY LIVESTREAM LESSONS AND Q&A SESSIONS
PROGRESS TRACKING TO HELP YOU STAY ORGANIZED
ACCESS TO ALL PREVIOUS LIVE BROADCASTS
WORLD-CLASS CURRICULUM
1-ON-1 MENTORSHIP


WHAT OUR STUDENTS ARE SAYING


Gridbook Percussion Academy has helped me so much between leadership advice, marching and playing technique, and helping others in the community. I enjoy having access to so much material! Gridbook always helps me #GetBetter.


Shaun Gaspard





Gridbook Percussion Academy has been super beneficial and helpful in my growth as a percussionist. I like having instant access to key resources that help me grow as a student and a performer. I spend many practice hours working through the course material which has been very beneficial to my performance and understanding of the activity.


Jack jackson





There is so much material available through the Gridbook Percussion Academy and I'm loving every second working through it all! I just found a snare solo called "Transitions" in The Woodshed course and it is KILLER! From what I see this is only going to get better from here. Thanks for all you do Gridbook!


jeff ludlow





Gridbook has always been a major source of inspiration and knowledge for me. I've been playing for eight years now and incorporating Gridbook routinely in my practice keeps me learning more and more each year. And now with the Gridbook Percussion Academy it makes all of my resources available on the go!


Shaylie Platten




Having all of the literature from Gridbook for such a low monthly fee is genuinely worth it. Plus, knowing I have access to all future books, play-alongs, and course content for the same price is really nice. I'm excited to grow as a player with the Gridbook Percussion Academy.


Gibbson San Luis





This service is the single best thing I ever invested my money in. The sheer amount of genuine advice and love I have received from this community is insane, and I cannot express how valuable this service is if you're interested in getting better at drumming.


Ian Gillies





Gridbook Academy is the best percussion education resource you can find out there right now. It has made it easier for me to practice and my approach to drumming is much more detailed. If you're serious about drumming, Gridbook Academy is where you need to be.


Rohan Chowla