WHAT THE BLUECOATS ARE LOOKING FOR AT AUDITIONS
What The Bluecoats Are Looking For At Auditions
In this video we provide audition tips for people auditioning for The Bluecoats Drum & Bugle Corps.
John Lluvera is on the drumline staff at Bluecoats and shares his personal insights from giving out cuts and contracts for the last 5 years. Mark Perrett provides commentary as well as an educator in the marching arts for over 20 years.

00:38 - PREPARATION & APPROACH

Know the packet, have it memorized, but also come in with the same style that The Bluecoats use. Come in playing like a Bluecoat.
Watch videos of the Bluecoats drumline and notice the way their hands move. Try to match your hands and overall vibe to the way they play.
Read the audition packet thoroughly and take note of all the text explaining the approach they're looking for.

It should look like you've already been in the line drumming with the vets before. The more you can blend your sound and approach to everyone else the higher your chances for getting the spot.

01:35 - BE ABLE TO BALANCE TO THE PERSON NEXT TO YOU

A lot of people come in to audition and they know the music, and they have the chops to get through everything, but then will stand next to a vet and not have the awareness to blend their sound to that person.
Blending your sound is such a huge part of being a great drumline performer, and it's your job to be aware of how the person next to you is playing and match that sound.


If you're playing next to a vet who hits the drum with a lot of velocity, you should do that too, but if the person next to you is playing a little lighter than how you normally do, adjust to play a little lighter so your sound matches.


Being in drumline is not a competition, it takes everyone working as a team to create a balanced, cohesive sound. We are putting together an ensemble, not a room full of soloists.


Players who do this well have a clear advantage at auditions.


06:05 - COME IN WITH EXPERIENCE


Most performers in the top 5 drum corps don't march there without prior experience marching somewhere else. If you're a freshman in high school, chances are you won't make Bluecoats simply because you lack the experience of marching a full season on the road.


Even if you have the packet memorized and you play very well, marching drum corps takes more than just musical chops to be a great member.
The staff is looking for people who they trust will do well sleeping on a bus, working long hours, have great time management, know how to deal with adversity, and come in with drum corps experience.


In some cases there have been highly talented people who make it in without drum corps experience, but that is few and far between. Those students usually come from high school programs with a great staff that has prepared them for the demands of drum corps.


So on your journey to marching Bluecoats, think about other places you can march to get that experience and bulk up your resume. If possible, look for staff members on the roster who have marched Bluecoats in the past or an ensemble that clearly uses the same approach.


NOTE: This doesn't mean wait to try out for Coats. Some people try out 3 or 4 times before they make it, and that audition experience and getting to know the vets and staff has a lot of value. Just don't expect to make it without experience marching somewhere else.


09:01 - BE ABLE TO PLAY ON THE MOVE


Playing standing still is only half the battle. You also have to play well while marching around the field. A lot of the final cuts happen when we start playing on the move.


As you prepare for auditions, don't spend so much time on your hands that you forget to practice marching and playing. You can 100% get cut because of your feet, even if you're a phenomenal player.


EXTRA THOUGHTS:


15:27 - RESEARCHER VS PRACTITIONER


Make sure you're doing the thing. A researcher will watch hundreds of hours of YouTube videos and know the terminology of everything really well. They might even be able to teach other people by regurgitating things their instructors have said to them. But a practitioner is actually drumming and marching and physically taking part in doing the thing.


A great performer is a mixture of both. Know the things, and be able to do the things.
Learn online with world-class resources and mentors.
Gridbook Percussion Academy is an online school for percussionists. We're here to help you get better with online courses, 1-on-1 mentorship, and learning tools.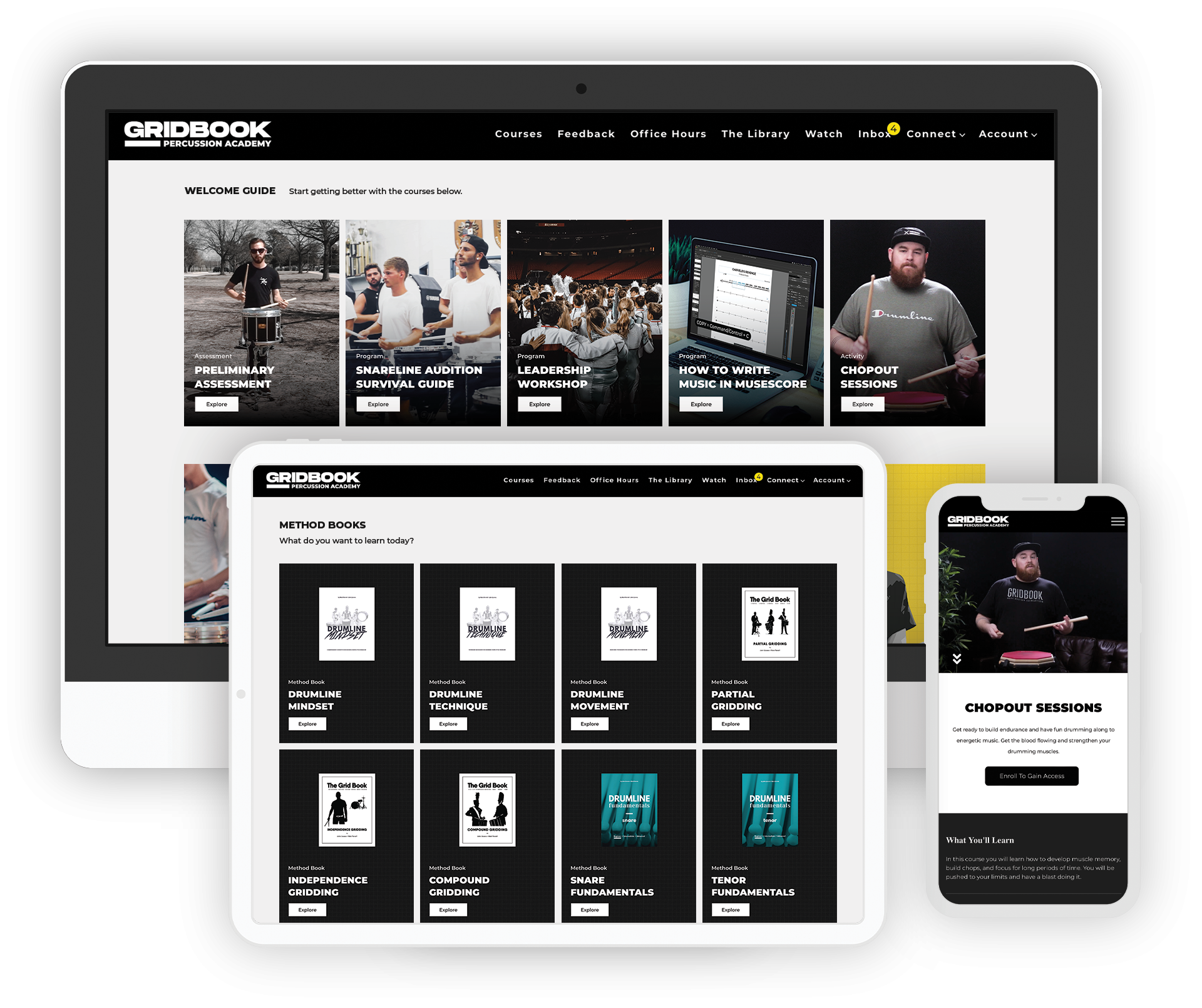 AUDITIONING FOR DRUM CORPS?
Enroll to Gridbook Academy and we will help you prepare. Our methods have helped hundreds of students over the years make the line and thrive.
GRIDBOOK ACADEMY MEMBER DISCOUNT
Use coupon code "GPA10" at checkout for 10% OFF your entire order on shop.gridbookpercussion.com.
COUPON CODE
10%
OFF PHYSICAL PRODUCTS
Created with